Can We Paint Our Kitchen Cabinets?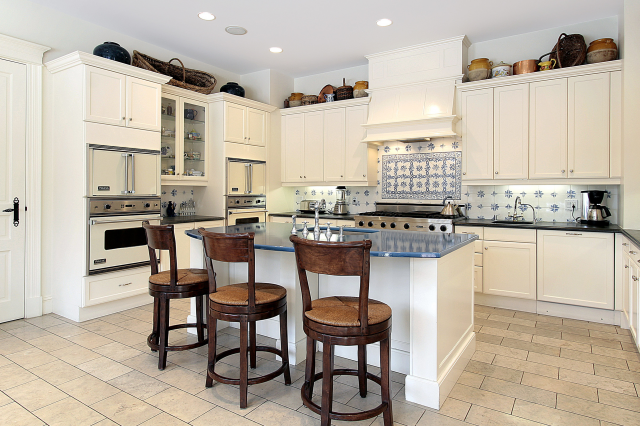 If your kitchen cabinets still work well but are starting to look dated or beat up, you could always paint them. Painting your kitchen cabinets costs only a fraction of the cost of refacing or replacing your kitchen cabinets.
Can We Paint Our Kitchen Cabinets? This question gets asked a lot! And the answer is, most definitely. Here at Paint My Cabinets we specialize in transforming your old kitchen cabinets to make them look new again.
It Starts With Selecting The Right Cabinet Paint
For cabinet painting projects, choose Benjamin Moore Advanced. The reason we recommend this particular brand and line is because it was made specifically for cabinets and furniture and acts like an oil base paint. It's self-leveling, blocks stains, reduces wood grain raise and seals great for durability. But it also acts like a water base with easy soap and water cleanup. It also has low order and low VOC. It's just a fantastic paint for kitchen cabinets and our number 1 choice.
Proper Prep For A Perfect Finish
Proper prep is essential to acheive that factory finish look.  It's also important because if any of the steps are skipped, you could end up with cabinets that peel and flake. Can you paint your kitchen cabinets? Of course! Here is a complete break down of the cabinet painting process.
1.) Degrease all cabinet doors, drawers, gables, panels, etc.
2.) Lightly sand all built-ins and doors
3.) Fill cabinet cracks with wood filler
4.) Add stain-blocking primer to all of the built-ins, doors & drawers
5.) Lightly sand after priming
6.) Add caulking to close off spacing around doors
7.) Add the first coat of paint. Professionally spraying your doors and drawers will give it that factory finish look.
8.) Lightly sand between coats of paint
9.) Apply the last coat of paint
10.) Allow ample time for your cabinets to dry and cure
Can we paint our kitchen cabinets?  Yes, however you are probably going to want to hire a professional company who will take the time to properly prep your doors and who will spray them using the proper equipment giving them that factory finish look.