Drying Time & How Long Does It Take To Cure & Paint Kitchen Cabinets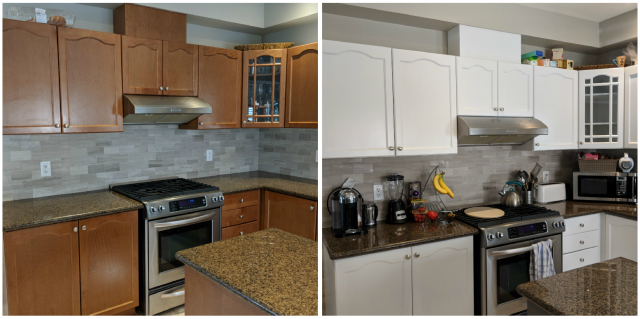 Two of the most frequent questions we get are…
"How long does the kitchen cabinet painting process take?" and "How long is the drying time?" or "How long does it take the paint to cure?"
The whole process of painting your kitchen cabinets takes approximiately 2 weeks. In some cases however, this timeframe might be extended to 3 weeks. For example when your ktichen doors need to be stripped, or a clear coat needs to be removed, additional time is required from start to finish.
For the cabinet paint to dry, it usually takes about 1 – 2 weeks. This is what we call "dry to the touch" After the paint is dry to the touch the curing process begins, and this takes a little longer, about a month or thirty days to be exact. During this time, the paint becomes increasingly less vulnerable to scratching and other damage as it approaches its maximum hardness. You can begin using your cabinets before they are completeley cured, just be sure to take special care during the curing process until your kitchen cabinets are completely dry or finish curing. Don't use any chemicals to clean them, if they get wet be sure to dry them quickly, and of course you also want to avoid banging, slamming or being overly rough with your cabinet doors.
Speeding Up The Curing Time
It's possible to speed up the curing time. The less humidity, the quicker your kitchen cabinet doors with dry and cure. A dehumidifier will help remove extra moisture and humidity out of the air helping the process speed along nicely.