How Many Coats Of Paint On Cabinets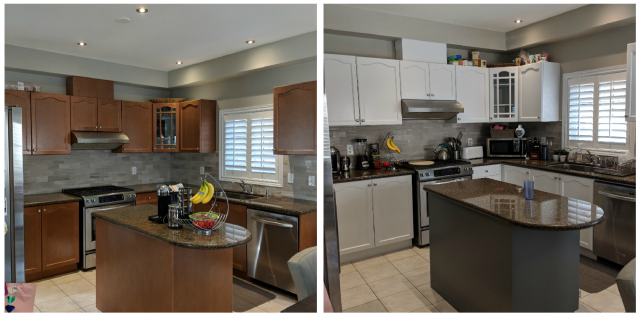 Painting your cabinets can have a huge impact on your kitchen, which for most families is the most used room in the house and the gathering spot for guests.  It can make your space look nicer, larger and more up to date.
The most popular paint color is white. White is timeless and goes with almost any wall and counter color. Grey is also popular for cabinets, but truthfully, you can choose whatever colour you choose.  You also have the option to do one colour for the island and a different colour for the rest of your cabinets; or you can choose one colour for the bottom part of the cabinets and a different one for top doors.
While painting your cabinets can transform your space, it's important to paint them the right way the first time, and that means adding no less then 3 coats of primer + paint to your kitchen cabinets.
The Process
Step 1: Wash and degrease all your doors, drawers, side panels, etc.
Step 2: Scuff (lightly sand) all your doors to prepare the surface for the first coat of primer.
Step 3: Fill cabinet cracks with wood filler
Step 4: Add stain blocking primer to all of the built-ins, doors & drawers
Step 5: Lightly sand after priming
Step 6: Add caulking to close off spacing around doors
Step 7: Add the first coat of paint. Professionally spraying your doors and drawers will give it that factory finish look.
Step 8: Lightly sand between coats of paint
Step 9: Apply the last coat of paint
Step 10: Allow ample time for your cabinets to dry and cure
It's important to add 3 coats to your doors for a professional finish. It starts with 1 coat of stain blocking primer and is followed up with 2 coats of cabinet paint. Sometimes an extra coat of paint is required when dark cabinets are being painted white.