How Much Does It Cost To Paint Kitchen Cabinets?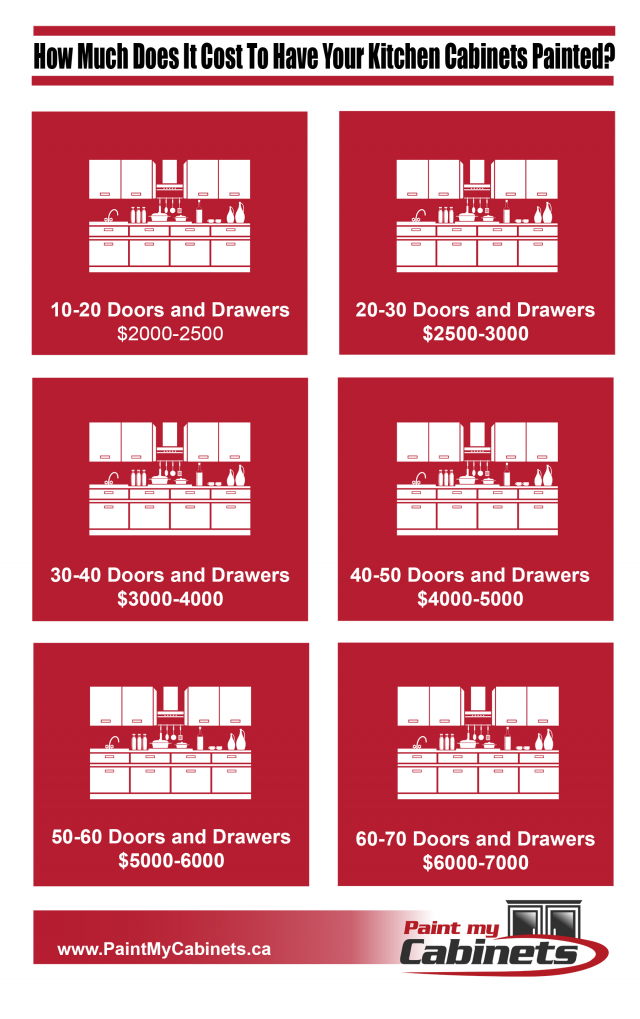 This infographic will show you the general costs to have your kitchen cabinets painted. For an exact quote, please fill out our easy online quote form located through the following link: https://www.paintmycabinets.ca/pricing-quotes/
Like most home owners who are looking to have their cabinets painted you're probably wondering, "how much does it cost to paint my kitchen cabinets?" 
The truth is, it depends. There are a variety of factors that will determine the cost of having your cabinets professionally refinished and repainted.
Things To Consider
Have your cabinets been painted before? 
If yes, then is the paint chipping, peeling or bubbling? If your cabinet doors are peeling chances are whoever painted your cabinet doors didn't take the necessary steps to prevent this from happening. Unfortunately having peeling and chipping painted doors could effect the cost because additional time will be needed to completely strip your doors bare before spraying with new paint. If your doors are not completely stripped first, you will undoubtly run across the same peeling, chipping and bubbling issues again.
Do you require new cabinet door handles?
Drilling new holes, filling old holes and installing new cabinet doors handles will make your cabinets "pop" and look new however you should also take into consideration that this adds extra time to your cabinet painting project. Money saving tip: Purchase new handles that align with your current door handle holes and there is no additional cost to have them installed.
Greasy cabinet doors
If you're cabinets haven't had a good wipe down or cleaning then chances are your cabinets will be greasy. Degreasing cabinet doors takes extra time and can effect the pricing and cost to have your kitchen cabinets painted and refinished. To save money, it is recommended that you clean and degrease your cabinets prior to painting using a degreaser that can be purchased at any local hardware store. This is a simple task that can shorten the time it takes to complete your project and save you more money
EASY ONLINE QUOTES!
We have made it really easy for you to find out the cost of having your kitchen cabinets painted & refinished by providing a convenient online quote form. Simply follow this link to receive your online quote today! Click Here