Milton Kitchen Cabinet Painting & Refinishing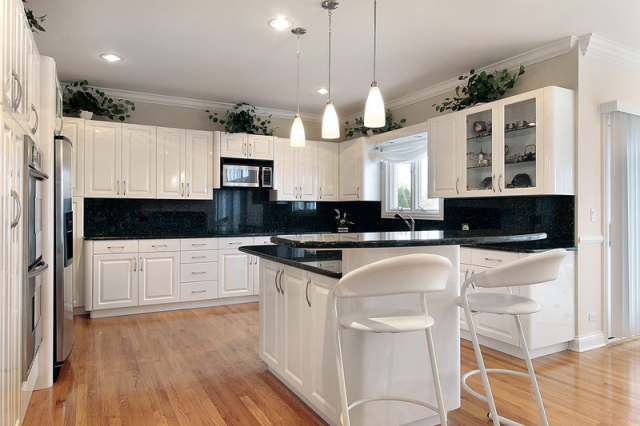 When You Want a New Look For Your Milton Home Kitchen,
You Don't Need to Invest in All New Cabinetry.
Make your kitchen look new again by painting and refinishing your existing kitchen cabinets for a fraction of the cost of replacing or refacing.
Paint My Cabinets offers a wide variety of kitchen cabinet finishes from matte, to pearl, to semi gloss that allows you to improve the look of your Milton home kitchen cabinets without the expense of replacing them.
We Specialize in Transforming Your Milton Kitchen
Cabinets Into Your Dream Kitchen.
Take your outdated Milton homes kitchen cabinets and paint them to a new look that will modernize your entire kitchen. You can even get new handles for your cabinets to give your doors a real new updated look.
The entire process of having your Milton kitchen cabinets painted is easy because you will still have full access and use of your kitchen during the refinishing process. We use low VOC paints that are eco-friendly and safe for your family and pets.
The Cabinet Painting Process
1.) Take down and label all cabinet doors, drawers, and hardware
2.) Wipe down all cabinets to degrease
3.) Mask off & tape the entire area to protect surfaces
4.) Lightly sand all built-ins and doors
5.) Fill cabinet cracks with wood filler
6.) Add primer to all of the built-ins, doors & drawers
7.) Lightly sand after priming
8.) Add caulking to close off spacing around doors
9.) Add two coats of paint to all of the built-ins, doors & drawers. Your doors and drawers are taken offsite to our spray booth where your doors will receive a factory like finish.
10.) Lightly sand between coats
11.) Clean, de-mask and reinstall your cabinetry & hardware
* Enjoy Your New Updated Kitchen! *
Get your FREE online cabinet painting quote today! Click Here