Painting Oak Wood Cabinets to Give Them an Updated Look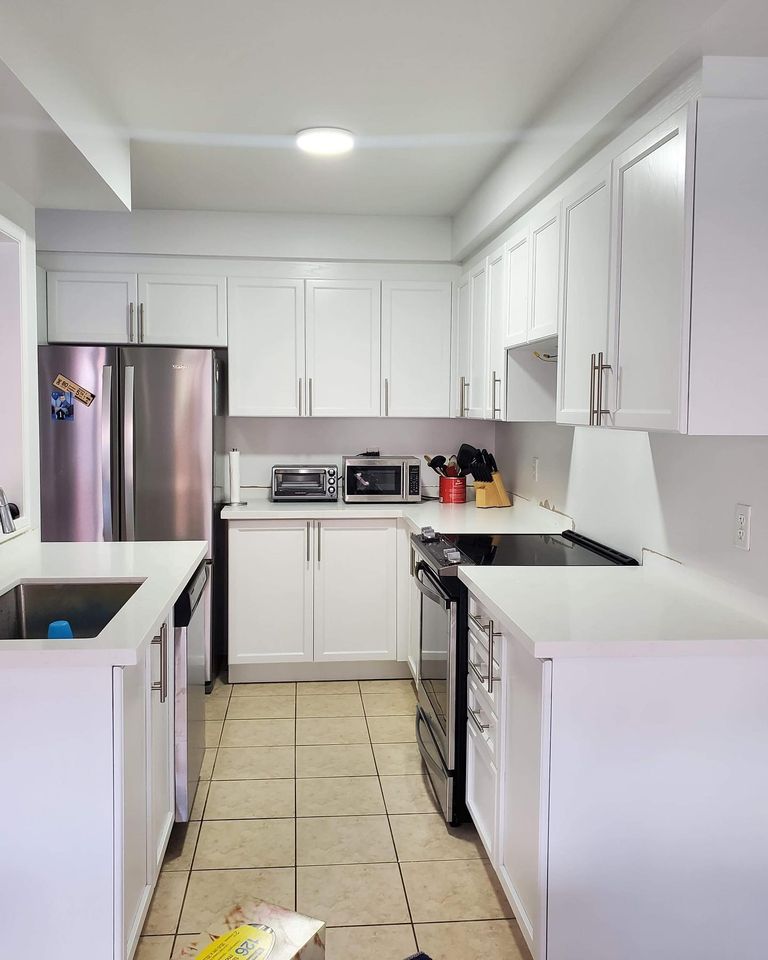 Oak cabinet painting is a sensible solution for oak kitchens where cabinets are in good shape structurally and for homeowners that can't justify the expense and major inconvenience of replacing their oak kitchen cabinets.
A question we get a lot is whether or not people should paint over their oak or honey oak cabinets. Oak cabinets are found in a lot of homes, particularly here in Canada, and when people are looking to update their oak kitchens, they usually look to changing things up with a fresh coat of paint.
The truth is, a little paint can go a long way in your kitchen. It can transform old outdated oak cabinets into a modern, bright and stylish look.
Painting Oak Cabinets Frequently Asked Questions
Can you paint over oak cabinets?
Yes! Oak cabinet repainting is a sensible solution for oak kitchens where the cabinets are in good shape structurally and for homeowners that can't justify the expense and major inconvenience of replacing their oak kitchens.
What kind of paint should be used on oak cabinets?
Advance from Benjamin Moore is a great cabinet paint for painting oak cabinets. It's an Alkyd paint product that is easy to clean and very durable once it has fully cured. Benjamin Moore Advance paint is a water-based hybrid paint that acts like an oil.
What Sheen is best?
The most popular sheen is Pearl, which is basically the same as a satin sheen finish. If you're looking for a glossier finish semi-gloss is recommended. High gloss can show a lot more imperfections in the doors so semi-gloss is what we recommend if you are looking for a glossier look.
How much does it cost to paint oak cabinets?
On average, the cost to paint your oak kitchen cabinets can range from $80 to $120 per door. Factors that can increase the cost to paint your oak cabinets include
Overly greasy oak cabinets
Damaged oak cabinets
Oak cabinets that require touch-ups with wood filler and caulking
Filling oak wood grain
How to hide the grain in oak cabinets? How do you minimize the grain when painting oak cabinets?  
The two best products on the market to fill wood grain in oak cabinet doors are Aqua Coat and DAP wood filler. Aqua coat is pricier however it's much easier to apply and has the consistency of a gel/paste. It is also a lot easier to sand after being applied.
Filling grain will only hide the darker grain lines, it will not result in your oak cabinet doors looking like flat-panel shaker doors.
How to prep oak cabinets before painting?
Step 1.) Degreasing
To remove surface contaminants such as oil, dirt, and grime, you will want to de-grease your cabinet doors. TSP or Krud Kutter is the two products we recommend that will help make easy work of this.
Step 2.) Scuff Sanding
Scuff sanding is a light sand that should be completed after your oak cabinet doors have dried from being degreased. Scuff sanding your oak cabinet doors helps the paint smoothly adhere to the surface.
Step 3.) Removing Dust
After sanding you will need to make sure all the dust is removed or it will affect the finish of your newly painted oak cabinet doors. The easiest way to remove dust from all the crevices and cracks is to blow it off using an air compressor.
Step 4.) Priming
Priming your doors will help the paint adhere better, give more durability to your cabinets, and give added protection in the long run. Always apply 2 coats of primer and make sure to lightly sand between coats so that you end up with a factory-like finish in the end.
Step 5.) Filling Oak Grain
The best time to apply your wood grain filler is after your first coat of primer. Using wood grain filler after the first coat of primer allows you to really see where your oak cabinet door grain lines need more attention. It's more difficult to see the problem areas before applying the first coat of primer.
What's the best primer for oak cabinets?
BIN from Zinsser is hands down the best and the only primer we recommend using. It's a shellac-based primer so it does have a stronger smell to it. As the original pigmented, shellac-based, stain-killing primer-sealer, nothing is better at permanently blocking stains, odours, and wood knots. It is the best Primer to use on your oak cabinets.
Do I have to sand oak cabinets before painting them?
Yes, because it helps with better adhesion of your paint and primer. It also will help remove any surface contaminants that might have been missed during the degreasing stage.
Should I spray or brush and roll my oak cabinets?
Since most average-sized subdivision kitchens have very few panels, you can use an extra-fine finish roller for the panels and non-removable pieces to save you on costs. It would really be a waste of money to spray the few pieces in your home. The only time spraying everything in your kitchen is recommended is for larger custom kitchens with many panels and intricate details.  Over 90% of the kitchens we paint do not require spray painting the boxes, panels, etc. Doors and drawers however should always be sprayed.
What color should I paint my oak cabinets?
Any colour from Benjamin Moore can be chosen however when choosing a shade of white or any other lighter shade, the dark grain lines in your oak cabinets will be more prominent. When choosing a lighter shade it's always recommended to take the extra steps needed to fill the oak wood grain.
Painting Oak Cabinets Before & After Pictures
Oak Cabinets Being Painted White Before & After Picture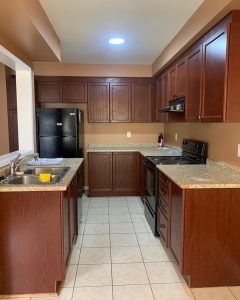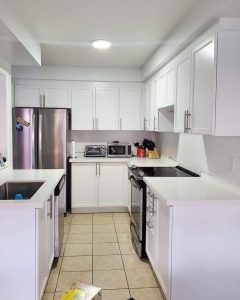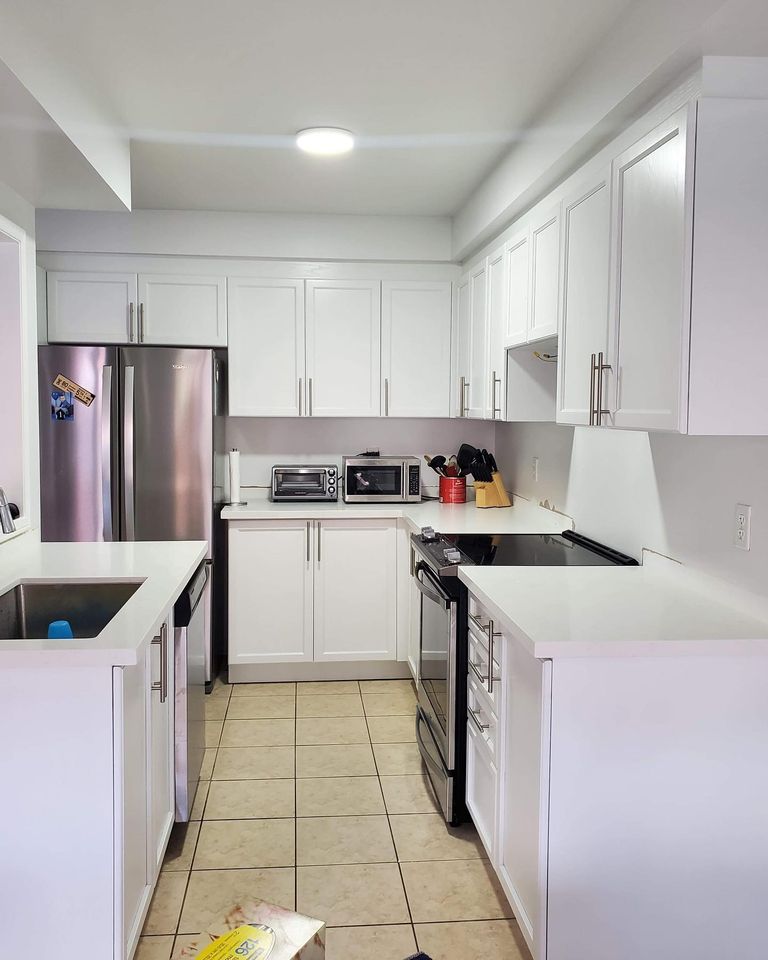 Honey Oak Cabinets Being Painted White Before & After Pictures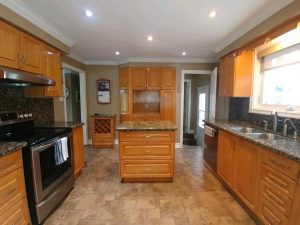 Oak Cabinets Being Painted Gray Before & After Pictures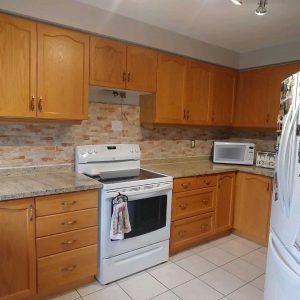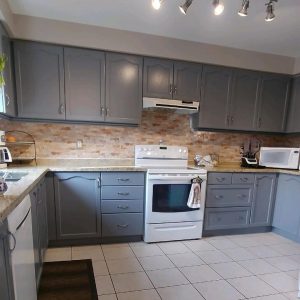 Painting Oak Cabinets With Two Different Colours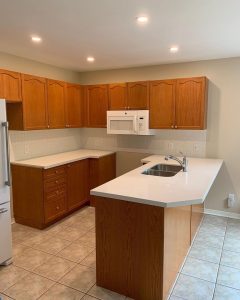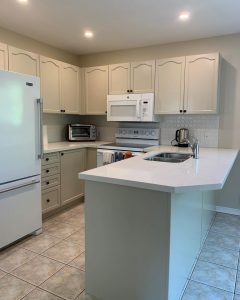 Oak Cabinets Being Painted Espresso Brown Before & After Pictures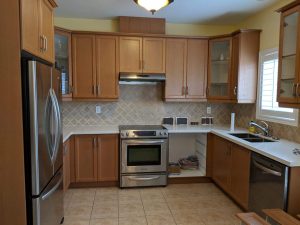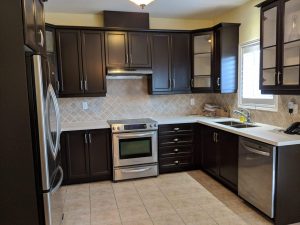 To Summarize
A full oak kitchen cabinet replacement is a messy, time-consuming, and often expensive process. Why go through the headache of pulling apart your oak kitchen when a professional cabinet painter can deliver the customized, updated style you've been dreaming of at the fraction of the cost of a full renovation?
Looking to have your cabinets painted? Contact us today for your easy online cabinet painting quote – Click Here