Steps To Painting Kitchen Cabinets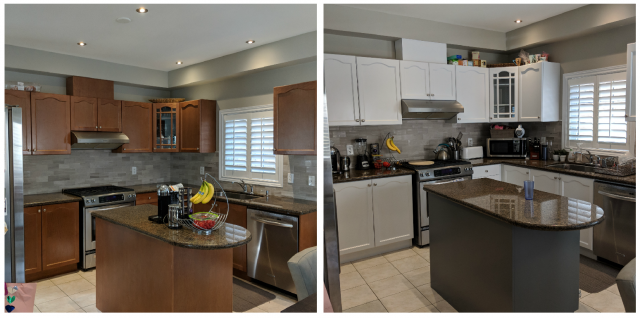 If you're considering hiring a kitchen cabinet painting company, one of the first questions you should be asking is "what are the steps you take when painting kitchen cabinets" The reason for this is because many fly by night painting contractors, or really cheap inexperienced cabinet painters, don't take the necessary steps to ensure your cabinets are painted properly.
If you opt to hire an inexperienced & cheap kitchen cabinet refinisher to save money, chances are they will be cutting corners to save time and costs to offer you the cheap pricing. Painting cabinets is a tedious and labourious job and cutting corners to save time & money, instead of taking the proper steps to paint your kitchen cabinets, always ends up with disastrous results of peeling and flaking paint.
Here are the steps Paint My Cabinets takes to professionally paint your kitchen cabinets
Step 1.) We carefully remove all doors/drawers and hardware. Your doors and drawers are brought back to the shop for prepping.
Step 2.) Degreasing your kitchen cabinet doors and drawers. This first step is super important. You cannot simply wash cabinet doors with plain water and soap and call it a day. A proper degreaser should be used to remove any grease that has built up on your cabinets. If your doors are not degreased, the primer and paint will have a hard time sticking to your doors and the paint will peel when you run your nail across the door. (Never skip this step)
Step 3.) Scuffing your doors will help the primer stick and also remove anything that may have found its way onto your doors after years of use in your ktichen that the degreasing in step 2 didn't remove. We don't recommend a full sanding of your doors because the problem with sanding down to the wood is that it creates the potential for moisture to get in or out of the wood. Moisture and wood is a bad combination and there's obviously lots more moisture in a kitchen than anywhere else in your home (steaming, frying, boiling) The only times we recommend sanding before priming is if the old paint is chipping or if the cabinets are in bad shape and you want to smooth them out. This is when a full sanding may be necessary.
Step 4.) Priming: Why prime your doors? Firstly, a good primer will help seal your doors and prevent any bleed through. You need it to create a full barrier between the original surface and your new one, so that the old colour doesn't "bleed" through. Primer also provides a surface that your new paint can stick to. When a cheap primer is used, bleeding can occur. The old colour can start to come through the new paint and ruin that new beautiful kitchen you have been dreaming of.
Step 5.) All seams are caulked and holes filled with wood filler. One of the steps that we do on about 90% of the cabinets that we paint is to caulk the seam between the door panel and trim. The idea is to make the caulking smooth, consistently even in the roundness of its cove, no gaps or ridges, and also to blend in seamlessly with the grain on the panels. This is a fairly tedious process and over the years we have developed a nice system for an excellent end result!
Step 6.) Lightly sand and apply the first coat of paint. After filling the seems and any holes the next step is to sand the primer layer before painting the wood. We do this in order to rough up the surface even more so that the new coat of paint has something to really hold onto.
Step 7.) After the first coat of paint we lightly sand again. We do this in order to rough up the first coat so that the second coat of paint has something to really hold onto. A second coat is then applied to your kitchen cabinet doors and drawers.
Step 8.) The last step to painting your kitchen cabinets is to give your doors and drawers some time to cure and harden. Once cured they will be ready to install for you and your family to use and enjoy.
All these steps are important and take time to complete. When hiring a cabinet painting company make sure you do your homework and ask them, "what are the steps you take when painting my kitchen cabinets?".