What Kind of Paint to Use on Cabinets?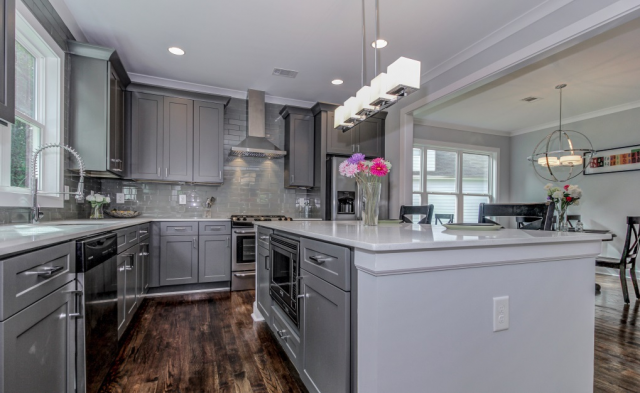 Remodeling your kitchen can be a big project. In most homes, the kitchen is the center of the living space, and most families spend a majority of their time in that room. The kitchen also has to serve a lot of functions, from storing food to hosting company. The number of large appliances and fixtures in the kitchen alone make it the most expensive room to renovate.
Repainting the kitchen cabinets
instead of replacing them is one way to save money on a kitchen renovation. If you do not plan to change the layout of the kitchen, and the cabinets are good quality, paint is all you need for a fresh, new look.
Best Brand of Paint for Kitchen Cabinets
Paint can be used on all types of surfaces. The key to choosing the right paint is picking a product specially designed for your project. Benjamin Moore Advance was created for painting cabinets and furniture, and it is the best paint to use on your kitchen cabinets.
Old-fashioned kitchen cabinet paint had a high gloss to make it easier to wipe dirt and grease from the surface. Typically, oil-based paints were used for this type of application despite their toxicity.
Benjamin Moore Advance Waterborne Alkyd Paint offers the same benefits as the oil paints without all the fumes, glossy finish optional. Benjamin Moore Advance features a water-based formula with low volatile organic compounds (low-VOC) and true pigmentation. This means your kitchen won't stink from the chemicals in the paint, but the colour you choose will cover evenly and last without fading.
A water-based paint cleans up easily with soap and water, but traditional water-based paints do not offer a scrubbable surface or durable coverage. Benjamin Moore Advance does both. It eliminates the need for harsh chemicals for clean-up. It also creates a washable coating on your cabinets that is easy to maintain.
Good painters know that the preparation is as important as the paint. With Benjamin Moore Advance paint products, there is no additional preparation needed. The paint bonds to any clean, dry, dulled surface that is free of dust. A tinted primer is recommended to achieve ideal colouration. A deep primer tint is necessary with some custom colors.
Popular Kitchen Cabinet Paint Colours
Today's popular kitchen colours are crisp, bold and neutral. You can make a statement with colour in your kitchen that has a timeless appeal.
One bold kitchen cabinet colour that works well with all the whites and greys is blue. Benjamin Moore's Hale Navy blue sets off those stark white countertops and ties in the grey accents.
Whether you are working with brushed nickel handles or shiny brass faucets, it can pull together the elements of your existing kitchen for a fresh look. Cabinets can be a lot of surface area to commit to a bold colour. Clean white cabinets are still a favorite in the kitchen, and they can set off other colour or texture in the room. Cabinets in Benjamin Moore's Chantilly Lace are often paired with solid white countertops and a decorative tile backsplash. Wood elements in the kitchen also contrast well with white.
To achieve a contrast of colours in the kitchen, dark gray and white paint can be used on the cabinets. With Benjamin Moore's Decorator's White on the upper cabinets and a rich dark gray on the lowers, the overall kitchen design is grounded while remaining bright. White and gray work well with stainless steel appliances and Cararra marble countertops, two popular design choices.
A popular hint of sophistication in kitchen design is achieved by adding a pop of dark gray to an otherwise clean white palette. Benjamin Moore Gray can accent a single bank of cabinets and possibly coordinate with the range hood colour. Grey is a perfect choice of paint to use on cabinets under a breakfast counter, for instance.
Choose a popular kitchen paint colour, and then use it in unexpected ways. Changing the colour of your kitchen cabinets will change the look of the whole room. The hardest part is making a choice among all the popular kitchen cabinet paint shades available.
How to Choose the Right Cabinet Paint Colour for Your Kitchen
Choosing the right colour for your kitchen cabinets can be tricky with so many options available. If you head right to the paint store to look at colour chips, you're going to run into trouble. Instead, you need to make the colour decision at home by considering the other features of your cabinets and kitchen.
 Size — Consider the size of your kitchen when choosing the paint for your cabinets. A big kitchen can usually pull off a variety of different cabinet colors. Smaller kitchens, however, present more narrow design options. Dark colors in a small space may seem overpowering and make the space feel even smaller.
 Style — Whether your cabinets are a traditional style, Arts & Crafts, or modern will help you determine what colors will look best. Traditional, colonial, Arts & Crafts and other cabinet styles from these distinct design periods look best in classic colors. Creams, whites and light grays are best for these types of cabinets. A more contemporary cabinet style, especially plain, flat fronts, can take a wider range of colors.
 Light — The appearance of color changes in different light because some colors reflect light while others absorb it. The amount of natural light you get in your kitchen should help you choose a paint color for your cabinets. Be sure to bring the paint chips into the room, hold them at the same angle as the surface of your cabinets, and look at them at different times of the day.
 With all of the colour choices available for kitchen cabinets, it makes sense to paint rather than replace your cabinets. A professional paint job with a good paint for cabinets like Benjamin Moore Advance can yield custom results. Your renovated kitchen will have a fresh new look at a fraction of the cost of new cabinets.